Chad Allbrow's taco truck
was food truck owned by Chad Allbrow, from which he sold tacos and seafood. He set up the truck under a large glowing sign depicting a dragon a bowl of noodles. This landmark gave his taco truck a competitive edge, and he later took over the expired trademark when he founded the restaurant chain
Rotten Dragon
, shifting his focus from tacos to ambiguous Asian cuisine.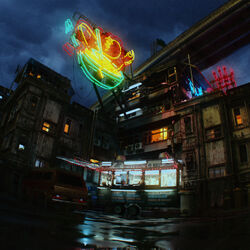 Items on Chad Allbrow's taco truck menu includes:
Ad blocker interference detected!
Wikia is a free-to-use site that makes money from advertising. We have a modified experience for viewers using ad blockers

Wikia is not accessible if you've made further modifications. Remove the custom ad blocker rule(s) and the page will load as expected.