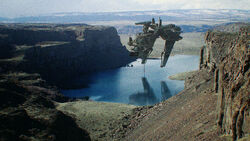 The
Eternal Grey
is an
Iridian
military warship and command center. In a naval battle, the ship's commanding general would be on board. The Eternal Grey and its crew took part in the Shadow State Two Rebellion.
Shadow State Two Rebellion
Edit
Apart from the warship's role in the Shadow State Two Rebellion and the fact that it heralds from the planet Iridian, nothing is known about the ship's history or if it played any significant role in a military on Iridian.
Ad blocker interference detected!
Wikia is a free-to-use site that makes money from advertising. We have a modified experience for viewers using ad blockers

Wikia is not accessible if you've made further modifications. Remove the custom ad blocker rule(s) and the page will load as expected.