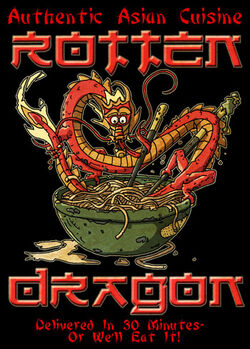 Rotten Dragon is a chain of restaurants that offers authentic or "ambiguous" Asian cuisine. Their slogan is "Delivered in 30 minutes. Or we'll eat it." The restaurant was founded by Chad Allbrow.
The restaurant have award winning chefs working for them, according to the staff themselves. There are over 300 Rotten Dragon locations. Rotten Dragon have a special membership that comes with a member card that allows the wielder to save 5% on applicable Wednesdays.
Founding
Edit
150 years ago Chad Allbrow set up a taco truck at the Greenport residential block beneath a large forgotten glowing sign depicting a dragon and a bowl of noodles. The landmark gave Allbrow a competitive edge, and eventually he took over the expired trademark, shifting his focus from tacos to ambiguous Asian cuisine.
For 150 years Rotten Dragon has stood as a mainstay in the Fast Food department.
Locations
Edit
Rotten Dragon restaurants exist in over 300 locations.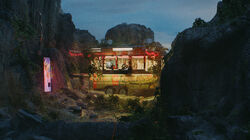 Rotten Dragon utilizes kiosks. "We're probably where you are!" Specialties: Stabbed Crabs
Happy Hour Menu
Edit
9 - crab dish
Edit
this is crab. hell yeah you can order it! recommended!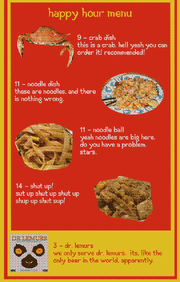 11 - noodle dish
Edit
these are noodles, and there is nothing wrong.
11 - noodle ball
Edit
yeah noodles are big here. do you have a problem. stars.
14 - shut up!
Edit
shut up shut up shut up shut up shut up!
3 - dr. lemurs
Edit
we only serve dr. lemurs. its, like the only beer in the world, apparently.
Chocolate Spaghetti Supreme
Edit
Specialties
Edit
Stabbed Crabs
Edit
External links
Edit
Ad blocker interference detected!
Wikia is a free-to-use site that makes money from advertising. We have a modified experience for viewers using ad blockers

Wikia is not accessible if you've made further modifications. Remove the custom ad blocker rule(s) and the page will load as expected.